iSMS Australia - SMS Merge
How to send SMS Merge in iSMS Australia
Wish to send personalized SMS but have no time to manage it? SMS Merge helps! iSMS Australia offers you an ultimate way to send customized SMS by using data extracted from Microsoft Excel or CSV file.
Enhance your SMS marketing campaign and maintain good customer relationship by sending SMS Merge, as low as 5 cents. SMS Merge allows you to send thousands of personalize SMS from a CSV file in a single click. The list may come from an existing database, unprocessed file from other functional departments or even downloaded from your CRM software - iCRM, for instance.
Sending SMS Merge is easy. Prepare your data, add specific details you wish to include in the message such customer name, mobile number, amount, expiry date and etc. to predefined headings, and save it into CSV file.
---
Creating CSV File
To do an SMS Merge, you will need to get all the required data into a CSV file. A CSV file can be easily created by spreadsheet software. Please be informed that formatting is not allowed, only predefined headings are allowed ( leave the cell blank if there is no data).
1. Create a CSV file according to the headings as shown follows. Include customer details and other information to be displayed in your SMS (expiry date, credit balance and etc).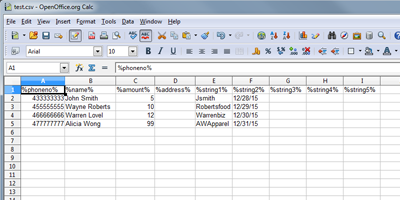 2. Save it as CSV format. (Check "edit filter settings" if you are using Open Office)
3. Login to iSMS Australia to Compose SMS. Go to second tab "CSV Compose". Click "Choose File" to select your CSV file. Draft your message and include predefined headings into the message box.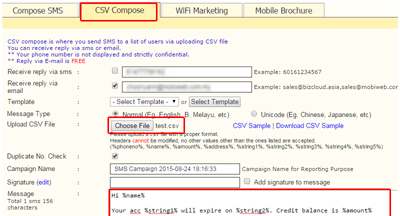 4. Your client will receive the SMS shortly. View "SMS History" for more details.
Useful Tips:
Include a quick link to your company website
Utilize URL shortener to reduce word count.
Include internation prefix for all mobile numbers