How to Send SMS through Email in iSMS Australia
How to Send SMS through Email
Have you ever encountered a situation where your only option to get connected is to connect your computer with the Ethernet socket? Or your mobile phone runs out of battery?
You can now send bulk SMS directly from your email account, conveniently combining the two communication channels. It supports most email client including Mozilla Thunderbird, Microsoft Outlook, Entourage, AOL, Windows Live Mail and so on.
Note: Standard SMS are limited to 160 characters.
Learn more about sending SMS with other programming languages.
---
Sending SMS in Just 3 Simple Steps
Launch your email application.
Draft your text message with the help of the sample on your right.
Send your Email.
To Email:
sms@isms.com.my
Subject:
isms
Email Content:
STARTISMS
username:password:message type
614xxxxxxxxx,614xxxxxxxxx,614xxxxxxxx
testing 1234567890
ENDISMS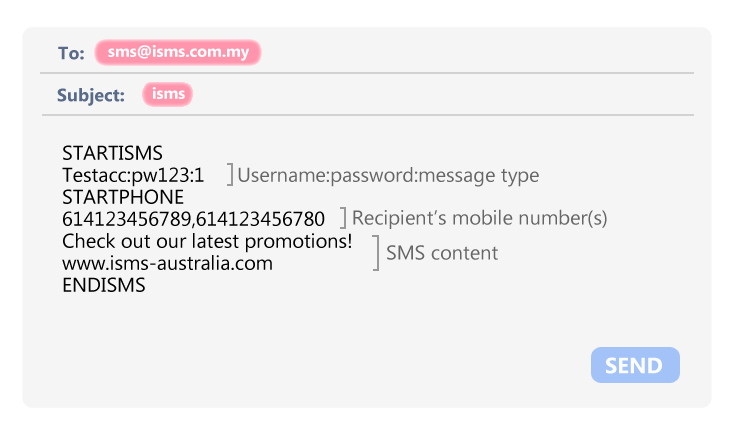 ---
Key Benefit
Simple, fast and easy to use.
Access anytime, anywhere
Constantly keep track of sent SMS.
Send SMS without having to login to the system.
Important Note:
Include international prefix for all mobile numbers. (614XXXXXXXXX)
Make sure your email is formatted as plain text to avoid sending errors.
The maximum number of characters for a SMS is 160. Texts that exceed the character limit will be broken up into multiple messages.
Parameter
Details
Example
STARTISMS
Enter STARTISMS as your message header. (Case Sensitive)
STARTISMS
ENDISMS
Enter ENDISMS as your message footer. (Case Sensitive)
ENDISMS
ISMS USERNAME
iSMS Australia Account Username
Testacc
ISMS PASSWORD
iSMS Australia Account Password
pw123
MESSAGE TYPE
1 for Normal
2 for Unicode
1
PHONE
Recipient mobile number. Use COMMA(,) for multiple phone numbers
614xxxxxxxx , 614xxxxxxxx
MESSAGE
Your sms message
Hi John