Check iSMS Australia Balance with C#
How to Check your iSMS Balance with C#
Check your balance for FREE with C#
Run the sample scripts on the right.
Key in your username and password.
Click on "Check Balance" to check your iSMS credit balance.
A numeric values will be displayed showing your balance.
The benefit of using C# is that you are able to compose multiple types of messages. For instance, VCard, Flash SMS, calendars, ringtones and so forth.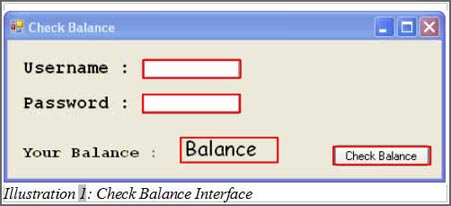 Learn more about checking account balance with other programming languages.
Sample code to integrate C# SMS Client in to your application.
using System;
using System.Collections;
using System.Collections.Generic;
using System.ComponentModel;
using System.Data;
using System.Diagnostics;
using System.Drawing;
using System.Linq;
using System.Text;
using System.Net;
using System.Windows.Forms;
using System.IO;
using Microsoft.VisualBasic;

namespace WindowsFormsApplication2
{
public partial class frmChkBal : Form
{
public frmChkBal()
{
InitializeComponent();
}

private void frmChkBal_Load(object sender, EventArgs e)
{ 
this.txtUser.Select();
}

private void btnChkBal_Click(object sender, EventArgs e)
{
// Create a new 'Uri' object with the specified string.
Uri url = new Uri("http://isms.com.my/isms_balance.php?un=" + txtUser.Text + "&pwd=" + txtPass.Text);
// Create a new request to the above mentioned URL.
WebRequest myweb = WebRequest.Create(url);
// Assign the response object of 'WebRequest' to a 'WebResponse' variable.
WebResponse mywebres = myweb.GetResponse();
StreamReader read = new StreamReader(mywebres.GetResponseStream());
// Read the whole string.
String balance_str = read.ReadToEnd(); 
// Replacing the label to user balance.
lblGetBal.Text = balance_str;
	
}
} 
}